Indian spiced potatoes and vegetables are full of color, flavor and mildly spiced.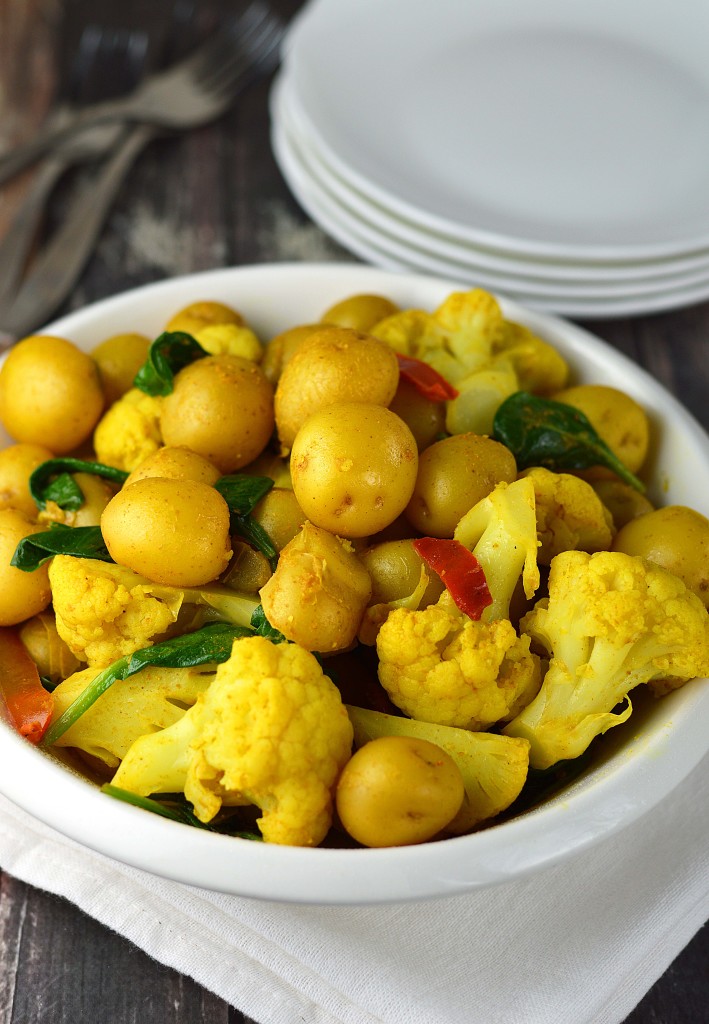 Part of my 2015 goal was to try new things.  Also I'm supposed to be drinking more water, less diet pepsi.  That is not going so well!  However, I have stuck to making new things for dinner.  So yay me!  And yay you if you're sticking to your plans!
I saw a recipe online for Indian spiced potatoes, made it awhile back and loved it!  Now I can't find it so I had to go by memory.  Scary if you've ever seen the sticky note collection that organizes my life.
The original recipe didn't have any vegetables in it so I added a bunch and increased the spices.  This is about as crazy as side dishes get around our house.  Bright yellow from the Turmeric but quite mild.  Enough so that the kids tried it at least.  Knowing them all too well I kept some potatoes plain and pan fried them.  I can't blame them, I wouldn't have touched this as a kid.  I keep reminding myself that I too was quite the picky eater and now will eat almost anything.  Even the rubber tires I used to double hate.  Black olives are one of my favorite topping now!  I'm not sure if my palate changed or if I just got too lazy to pick them off.
Using a few short cuts really sped things along.  I had the potatoes and cauliflower pre cooked and I buy the best thing ever which are onions and peppers cooked and frozen.  Where have those been all my life?
Any kind of potato can be used here, just cut them up into bite sized pieces.