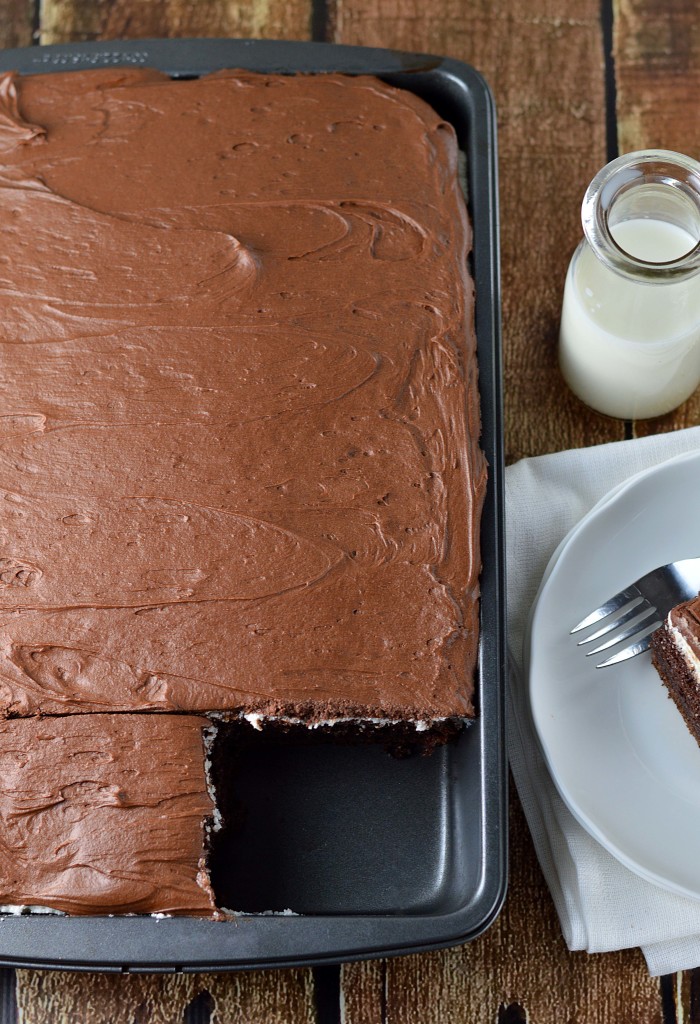 There's just something about chocolate cake, you know?  Everything is better with cake.  Except my point tracking.  I've completely fallen off with that but who cares, I'm leaving on a family vacation where our food motto is "We don't judge"  That will also apply to Cerveza at 10am. 
This week I wanted a cake that reminded me of my go to road trip snack.  Swiss rolls or Ho ho's (Depending what store you frequent) are those little cylinder cakes filled with frosting that I always buy on trips via road or air.  They're sold in two packs which imply I should share, but I don't.  My husband will definitely back me on that fact!
So I whipped up this chocolate cream cake.   Knowing there would be three layers involved and being that most nights I'm ultra lazy after 5pm, I went straight for a cake mix for one of them.  Especially since I was making two different frostings.   You can use any chocolate cake recipe you like.  But this doctored mix is a no fail favorite!
I tried a number of frostings I found online for the white layer.  Flour, milk, sugar and shortening did not agree with me so I went with my old stand by.
This cake has two of my all time favorite frostings.  Cream cheese and the best ever chocolate frosting.  I ended up freezing most of the cake since there are bathing suits to be worn on this trip.  Already looking forward to defrosting it upon return!